Activities
SWA and IAEA signed a memorandum of understanding (MOU) on cooperation.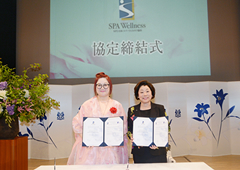 On May 15, 2018 in Tokyo, International Alliance for Education Accreditation Limited (IAEA) was officially licensed as Japan SPA Wellness Association's Mainland and Hong Kong branch.
In the future, we will both carry out to develop the safer, high-quality Five Star salons that customers can use. Moreover, we educate higher level professionals, and conduct the qualification examinational in Mainland China and Hong Kong.
JEO (Organization) certified Advanced-level test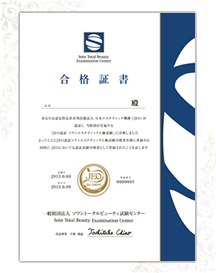 "JEO Certified Soin Esthetic Advanced-level Test" is a test certified by the Japan Esthetic Organization (JEO) as an advanced examination system specifically for people with more than 1000 hours of esthetics training. Passing the advanced-level test objectively proves that one is a beauty therapist with the knowledge and technique of a total esthetician as well as appropriate service manner.
Those who pass the test will be registered as "Successful applicants of the Advanced-level test" to Soin Total Beauty Test Center and JEO, and will be qualified as certified beauty therapists.
Certificate of successful completion
Joined IPSN to aim for International License certification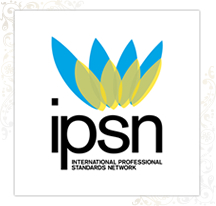 IPSN (International Professional Standards Network) verifies the techniques and education level of each country and aims for internationally mutual certification of qualification. Professionals with IPSN certified qualifications can expand their working field to other member countries.